Top 5 Personal Training Certifications for Personal Trainers
---
Top 5 Certifications for Personal Trainers

Subscribe to AsktheTrainer Fitness Lists

5. Ace
American Council on Exercise
Ace has been around for many years and is one of the more widely accepted personal trainer certifications.
It is a reputation for being a standard certification which takes the least preparation and money to obtain so it is desirable for people who want to try out the personal training profession with the least investment of time and money.
Popular Certifications from ACE:
Certified Personal Trainer
Lifestyle + Weight Management Consultant Certification
Group Fitness Instructor Certification
Advanced Health + Fitness Specialist Certification
4. ISSA
International Sports Sciences Association
The ISSA has long been one of the top personal trainer certification bodies and their certifications continue to be some of the top 5 personal training certifications you can get.
Straight from the ISSA website.
"Since 1988, the ISSA has certified and provided continuing fitness education to nearly 100,000 people just like you who want to help others feel better, look better and improve the quality of their lives.
We are unconditionally committed to providing expanded access to the highest quality personal training certification and continuing fitness education programs available, advancing our industry as a whole, and developing greater access to career opportunities for those who share our vision of Creating a Stronger, Healthier World™."
Popular Certifications from ISSA:
Certified Fitness Trainer (Including youth fitness, senior fitness, fitness therapy, and performance nutrition & more.)
3. ACSM
American College of Sports Medicine
While the ACSM is definitely the most respected personal training certification, the ACSM certifications tend to focus more on the clinical side of personal training.
The certifications may be unnecessary for the personal trainer who is working at the local YMCA, but for trainers with college degrees, ACSM certifications are a good way to make use of the college degree because most ACSM certifications require degrees.
ACSM certifications demand a lot of respect for possible employers so they will always be one of the best certifications to get and maintain.
Popular Certifications from the ACSM:
Certified Health Fitness Specialist
Certified Personal Trainer
ACSM Certified Clinical Exercise Specialist®
ACSM Registered Clinical Exercise Physiologist®
2. NSCA
National Strength & Conditioning Association
The NSCA has certifications for personal trainers and strength coaches which really focus on keeping the basic principles of strength and conditioning intact.
Strength & conditioning specialists certifications are required for any job working with collegiate, and professional athletes.
The NSCA offers 2 certifications which both require previous education. The tests are statically proven to be some of the most challenging personal training certification exams even though the exam takers have previous education.
NSCA certifications both must be maintained by rigorous continuing education programs and are highly regarded in the United States and internationally.
Popular Certifications from the NSCA:
Certified Personal Trainer
Certified Strength & Conditioning Association
1. NASM
National Academy of Sports Medicine
The NASM has taken a different path than many other personal training certification companies.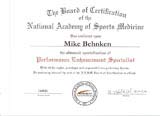 Rather than emphasizing teaching the standard scientific principles of training the NASM takes current research and the current state of the sedentary adult to create certification which is more relevant to today's personal training profession.
The NASM offers continuing education as well as higher education for busy professionals to receive their online masters degree as well as undergrad programs.
Any person who is serious about beginning a career as a personal trainer or any client who wants the best service is highly likely to have their expectations exceeded with NASM personal training certifications.
Popular Certifications from the NASM:
Certified Personal Trainer
Performance Enhancement Specialist
Corrective Exercise Specialist
You May Also Like -
blog comments powered by
Further Reading for Current or Future Personal Fitness Trainers
Return from the Top 5 Personal Training Certifications to the Home Page