Top 5 Fitness Christmas Gifts
---
Top 5 Christmas Gifts for Fitness During the Holidays
Subscribe to AsktheTrainer Fitness Lists

5. iPod nano / iPhone
What is Christmas and the Holidays without High Tech?
It may seem like everyone and their mother has an iPod these days but for those who don't the iPod nano makes the perfect Christmas gift for any past or present fitness enthusiasts.
The main features are the larger colored screen with video capability and longer lasting rechargeable battery. Most people would rather not workout at all if the iPod is not ready to workout as well. Music is the easiest form of motivation and entertainment for most people.
Apple also has released the Nike sport kit which includes a sensor and wireless receiver.
The sensor is placed in the pocket of special Nike shoes which transmits your physical activity data to the iPod which you can upload to your computer and analyze.
Every add on is also a good idea for fitness related Christmas gifts.
Buy a Brand New Apple iPod nano for Christmas Gifts
4. Polar Heart Rate Monitors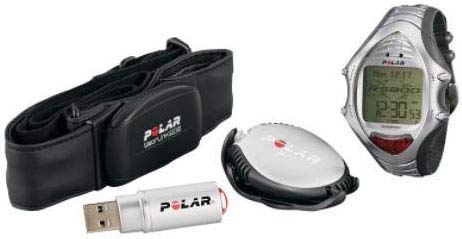 Have a Heart this Holiday Season
Motivation to begin exercise is often more challenging than the exercise itself. A great Christmas gift for fitness is a heart rate monitor.
Polar heart rate monitors have been around for a while and are the standard for which all heart rate monitors are judged.
If you are a complete newbie at cardiovascular exercise you should know that your heart rate is really what tells you if you are working out hard enough or not.
Heart rate to cardio is what weights is to weight lifting. If you really want to get results in your exercise program it is very important to now your heart rate so you will know when you make improvements.
The polar heart rate monitors have a chest strap which relays the information wirelessly back to the wrist watch.
The more money you spend the more features you will get. The newest, most advanced heart rate monitor with the most features is the Polar RS800GS3.
The RS800GS3 goes a step further and like the Garmin, has a GPS sensor and comprehensive software program which not only monitors your progress and track your steps but gives you advice and specific training programs.
The software for the Polar RS800GS3 can track your movement in running, cycling, hiking, kayaking, cross-country skiing, and inline skating.
As you expected the most advanced Polar heart rate monitor will not come cheap. You can pick it up for around $459 on various retailers.
Holiday Shopping for Polar Watches on Amazon
3. Garmin Forerunner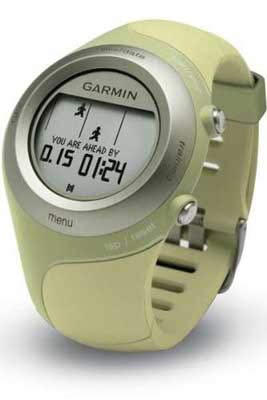 Technology meets fitness head on with a triumphant victory score with the Garmin Forerunner. Garmin makes GPS technology so it seems natural that they provide you with a GPS tool which tracks you as you jog, run, climb and bicycle all over the place.
The new forerunner 405 seems to be the best forerunner yet because it actually looks like a sleek watch rather than a bulky PC on your wrist.
The new forerunner 405 also uses a very simple touch screen interface and only 2 buttons. It has wireless communication capabilities so you can see if your friend is outpacing you.
All forerunners have a great software package which you can upload your workout data too.
You can see graphs and readouts of everything from how far you ran, your average heart rate, the climb you made as well as your calories burned during your exercise session.
The forerunner also packs numerous features which tailor to the serious runner.
If you are a hardcore competitive runner or bicyclist the GPS technology of the forerunner may make it indispensable. The forerunner with heart rate monitor will run around $350.00 so it it quite an investment for the casual fitness enthusiast.
Now that you have the coolest, most in-depth and advanced fitness Christmas gift, accomplishing your New Years resolution will seem less far off this holiday season.
Buy a New Garmin Forerunner 405 from Amazon for a Christmas Present
2. Nintendo Wii / Wii Fit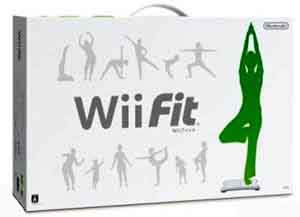 Every Christmas Season has its Hot Item
It seems that the Wii has been that hot item for the last 2 years and this holiday season the Wii fit a new addition to the Nintendo Wii family.
The Wii has the distinct advantage of most of the best fitness Christmas presents this holidays because it can also be used for completely sedentary video games as well.
The balance pad is very responsive and accurate and some of the exercises for the Wii fit are very challenging.
Children and adults alike can benefit from the Wii and Wii fit.
99% of people won't go from out of shape to fit on the Wii, but it is a good fun supplement to any exercise program and active lifestyle and most definitely one of the top 5 fitness Christmas gifts.
Popular Science Article Featuring AsktheTrainer
1. Gym Membership / Personal Training
Give a Gift that Keeps on Giving
A gym may be intimidating for some people but that is just what many people need to start a fit and healthy lifestyle.
Gyms usually have specials during the Holiday seasons and these usually make great Christmas presents.
Prepaid memberships usually cost far less than monthly memberships and many come with personal fitness training.
Just like any gift which is aimed to promote physical activity a gym membership can also go to waste so personal training is another option especially for someone who already has a gym membership.
Personal training sessions are a great gift for anyone who has ever exercised and even personal trainers themselves.
A Christmas gift of personal training sessions will kick start the New Years resolutions of people who hate exercise and can take the workout program of people who do exercise to another level.
Find a Highly Qualified Personal Trainer Near You
You May Also Like -
blog comments powered by