Top 5 Most Entertaining Fitness Websites
---
Top 5 Most Entertaining Fitness sites on the Web
Subscribe to AsktheTrainer Fitness Lists

5. Bar-Barians.com
Cirque Du Soleil Meets the Playground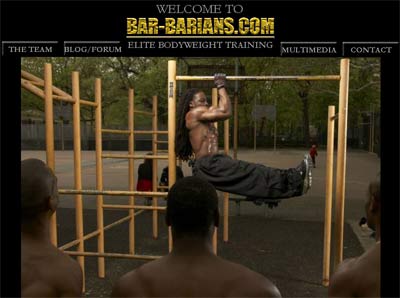 While Bar-Barians.com is definitely not the most information-rich fitness site on the web it is truly unique.
Bar Barians are part of a movement of "elite bodyweight training" which have their own criteria and ranking system.
The exercises performed by he Bar-Barians are often very spectacular freestyle exercises these incredible athletes invent while using whatever equipment available in playgrounds and around the city.
The highlight of Bar-Barians.com is the multimedia section which features videos which are surely to make the average couch potato cry and the average fitness enthusiast feeling fat and out of shape.
4. MensHealth.com
Find Everything Male Celebrity Workouts to Manly Exercises to Manscaping
Men's Health magazine is a stalwart of fitness related magazines on newstands all around the world. Menshealth.com has much of what the popular magazine has and more.
What makes MensHealth.com one of the most entertaining fitness sites on the web is it's sheer volume of information and variety.
If you're not looking for LeBron James' workout or any celebrities workout, you can read thousands of articles about how to better please your partner and even head over to the "grooming parlor" to "seduce her with your scent."
MenHealth.com tells you everything you want to hear and shows you everythying you want to see with high quality pictures and videos which are enough to entertain most casual web browsers and fitness information seekers.
3. Bodybuilding.com
The 10,000 Pound Gorilla of Fitness Websites Delivers
Bodybuilding.com is not only one of the most highly trafficked fitness sites in the world, it is one of the top trafficked sites in the world period.
Bodybuilding.com has so much bodybuilding and fitness information it would likely take a lifetime to go through everything. One of the factors that makes Bodybuilding.com one of the most entertaining fitness websites is it is not limited to solely information.
In addition to a huge supplement store, Bodybuilding.com has a giant social network called Bodyspace where people from around the world can connect and share their experience and knoledge with people with similar fitness goals.
No doubt the most entertaining aspect of Bodybuilding.com comes from the forums which are one of the biggest of all internet forums. The discussion ranges from personal trainers issues, to advanced nutrition to the infamous Misc forum where any intelligent conversation is strictly prohibited.
2. ScoobysWorkshop.com
Home Bodybuilding Workouts, Nutrition & Engineering!
Scooby an engineer by trade who has been bodybuilding for 27 years started his website in 2005 because he was "fed up with how fitness and bodybuilding had become nothing more than another big business run by money hungry corporations."
The result 5 years later is a practical information-rich website which covers everything from home weight training, cardio, nutrition, supplements and rigging home exercise contractions out of cheap material to enable people to workout at home effectively.
What makes ScoobysWorkshop.com one of the most entertaining fitness websites are the videos where the well-spoken Scooby takes his time to explain everything very clearly as well as provide a fair share of comedy.
The overall nice guy Scooby's hatred for gimmick products is second to none as you can see in his "hall of shame" section. Whether you are entertained by the manflesh of a grunting bodybuilder pumping iron at home, looking for some new ways to eat or supplement better or want to create a home exercise machine ScoobysWorkshop.com has it all, and then some.
1. Bodyrock.tv
Squashes any Ideas that Sex Doesn't Sell
It takes the average Bodyrock.tv visitor of 1 second or less to realize what Bodyrock.tv is selling.
The primary attraction, Zuzana looks and sounds like a cross between a fitness model, Playboy playmate, and an Eastern European foreign exchange student.
The videos on Bodyrock.tv are hot to say the least. Watch Zuzana lift weights, do cardio intervals and sweat with camera angles that show off every inch of Zuzana's perfect physique. Zuzana makes sure to demonstrate proper breathing during each rep as well.
Oh yes, besides Zuzana's workout and nutrition videos, there is also information about workouts, nutrition and general fitness, some written by the mysterious "Frederick" and of course Zuzana who responds to the comments and questions left by website visitors.
The dictionary definition of entertainment is: the act of entertaining; agreeable occupation for the mind; diversion; amusement. Something affording pleasure, diversion, or amusement, esp. a performance of some kind:
Men want Zuzana. Women want to look like Zuzana. What could be more entertaining?
You May Also Like -
blog comments powered by
Return from Top 5 Most Entertaining Fitness Websites to the Lists Home Page