Top 5 Most Fattening Thanksgiving Foods
---
5 Most Fattening Foods for Turkey Day
Subscribe to AsktheTrainer Fitness Lists

5. Dinner Rolls
Adding Pointless Extra Calories which go straight to Your Love Handles
Dinner rolls are not that bad for you by themselves. Add some butter and you are going in that direction...
When you consider that the excess calories in dinner rolls are likely combined with fatty butter and eaten before or during the main course they are one of the worst foods to include in your turkey day feast.
Dinner rolls are one of the worst Thanksgiving foods simply because they add excess to an already fattening Thanksgiving experience.
Less Fattening Alternative Thanksgiving Foods or Preparations
In order to keep the calories down for your Thanksgiving dinner, dinner rolls are best to be left out. You may find that not many people complain with the lack of their presence, they will be too busy stuffing their faces with gravy lathered turkey and other trimmings.
4. Cranberry Sauce
Take a Healthy Berry and Drown it in Sugar
Cranberry sauce, jelly or spread adds the tang to a very savory Thanksgiving day meal.
What it also adds is tons of sugar. Since cranberries are a very tart fruit it takes loads of sugar which is sometimes added in the form of high fructose corn syrup.
Along with dinner rolls cranberry sauce is guilty by association. You will be eating many high fat foods and the added sugar in cranberry sauce adds extra calories without really filling you up.
Consider cranberry sauce a catalyst to a Thanksgiving meal which you may consume from 5,000-10,000 calories.
Less Fattening Alternative Thanksgiving Foods or Preparations
Artificial sweeteners such as equal or splenda are a good alternative to use if you make your own cranberry sauce. You may be able to find store bought cranberry sauce with reduced sugar but the best option is to make your own healthy variety.
3. Candied Yams
Yams are Healthy Candied Yams are Not
Yams are a great everyday food for active people but over Turkey day they become one of the most fattening Thanksgiving foods.
Even the most healthy version of candied yams are loaded with added sugar via maple syrup and/or brown sugar.
Some recipes call for a stick of butter and a pound or more of sugar which sounds bad, but some even call for a topping of marshmallows which adds even more excess calories to your waistline.
Less Fattening Alternative Thanksgiving Foods or Preparations
Yams happen to be one of the sweetest and tasty tubers out there. Prepare them correctly and keep them from drying out and you won't need tons of maple syrup or God forbid marshmallows to make them part of your Turkey day feast.
2. Mashed Potatoes & Gravy
Butter, Potatoes and Gravy Makes You Lazy
One of the most common staples of Thanksgiving dinner is the seemingly limitless supply of the high in fat, high in calories mashed potatoes and gravy.
Usually prepared with cream and loads of butter added, mashed potatoes topped off with gravy are one of the worst things you will eat this thanksgiving.
What makes it even worse is that in all likelihood you will be dousing your entire dinner with gravy and doubling or tripling up on your mashed potatoes servings which will definitely find its place in your problem areas.
Less Fattening Alternative Thanksgiving Foods or Preparations
It is all about the preparation for mashed potatoes and gravy. There are a few alternative recipes but in general, butter and fatty milk/cream use can be minimized to lower the caloric content of these Thanksgiving dinner staples.
1. Cheesecake & Pecan Pie: Its a Tie !
Fat & Sugar & Sugar & Fat
When 1 slice contains upwards of 600 calories and 40 grams of fat there is little debate to whether pecan pie and cheesecake are the worst Thanksgiving foods.
Top this off with the fact that they will most likely be the 20th thing you will eat for your Thanksgiving dinner and you will know that these pies are the worst Thanksgiving foods.
Less Fattening Alternative Thanksgiving Foods or Preparations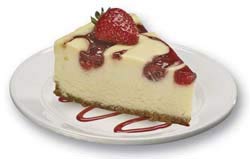 Low fat cheesecakes do exist but not pecan pie in which pecans naturally are high in fat. Other pies are most likely very high in calories.
While pumpkin pie still contains its fair share of calories, it has by far less calories and more nutritional value than these 2 caloric behemoths.
You May Also Like -
blog comments powered by
Further Reading: Weight Loss