Top 5 Most Useful Tech Gadgets for Fitness
---
5 Toys that will help you Succeed in Achieving your Fitness Goals

Subscribe to AsktheTrainer Fitness Lists

1. iPod nano / iPhone
It seems the days are long gone when you had to pack your 10 pound "sports walkman" into the convenient store to purchase a pack of AA batteries.
Mp3 players have squashed all other form of portable media and the iPod is currently the king of the hill. The 3rd generation of iPod nano has brought almost all the functionality and features of the standard sized Ipods to you in a very small and light package.
The main features are the larger colored screen with video capability and longer lasting rechargeable battery. Most people would rather not workout at all if the iPod is not ready to workout as well. Music is the easiest form of motivation and entertainment for most people.
The iPod nano is the most useful tech gadget for fitness because it is the perfect companion for any workout. Apple also released the Nike sport kit which includes a sensor and wireless receiver. The sensor is placed in the pocket of special Nike shoes which transmits your physical activity data to the iPod which you can upload to your computer and analyze.
The Ipod Nano may not have been designed specifically for fitness but it gets the nod as the top fitness technology gadget because workout out without it sucks. The Iphone should also receive mention because it could be very important if you exercise outside and happen to get either lost, injured or feel like ordering a pizza for when you get home.
At less than $200 the Apple iPod nano 8 GB Black (3rd Generation)
may be the best friend you ever have during long workout sessions.
2. Garmin Forerunner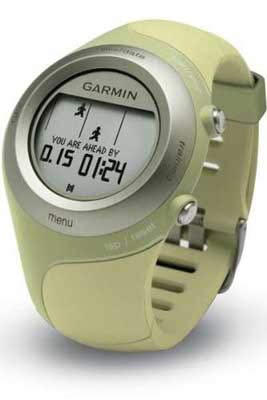 Technology meets fitness head on with a triumphant victory score with the Garmin Forerunner. Garmin makes GPS technology so it seems natural that they provide you with a GPS tool which tracks you as you jog, run, climb and bicycle all over the place.
The new forerunner 405 seems to be the best forerunner yet because it actually looks like a sleek watch rather than a bulky PC on your wrist.
The new forerunner 405 also uses a very simple touch screen interface and only 2 buttons. It has wireless communication capabilities so you can see if your friend is outpacing you.
All forerunners have a great software package which you can upload your workout data too.
You can see graphs and readouts of everything from how far you ran, your average heart rate, the climb you made as well as your calories burned during your exercise session.
The forerunner also packs numerous features which tailor to the serious runner.
If you are a hardcore competitive runner or bicyclist the GPS technology of the forerunner may make it indispensable. The forerunner with heart rate monitor will run around $350.00 so it it quite an investment for the casual fitness enthusiast.
Now that you have the coolest, most in-depth and advanced fitness technology gadget, all you have to do is put it on, get outside and exercise. This task may be even more of a challenge than the exercise itself.
GARMIN Forerunner 405 Black GPS Enabled Sports Watch/ HRM
3. Polar Heart Rate Monitors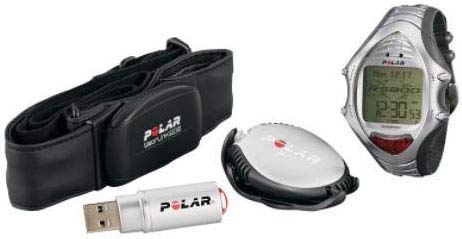 Polar heart rate monitors have been around for a while and are the standard for which all heart rate monitors are judged.
If you are a complete newbie at cardiovascular exercise you may not know the importance of heart rate.
Heart rate to cardio is what weights is to weight lifting. If you really want to get results in your exercise program it is very important to now your heart rate so you will know when you make improvements.
The polar heart rate monitors have a chest strap which relays the information wirelessly back to the wrist watch.
The more money you spend the more features you will get. The newest, most advanced heart rate monitor with the most features is the Polar RS800GS3.
The RS800GS3 goes a step further and like the Garmin, has a GPS sensor and comprehensive software program which not only monitors your progress and track your steps but gives you advice and specific training programs.
The software for the Polar RS800GS3 can track your movement in running, cycling, hiking, kayaking, cross-country skiing, and inline skating.
As you expected the most advanced Polar heart rate monitor will not come cheap. You can pick it up for around $459 on various retailers.
Polar RS800G3 Multisport GPS Computer Heart Rate Monitor Watch with FREE USB 2.0 Interface
4. Nintendo Wii / Wii Fit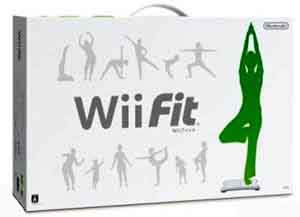 You have to hand it to Nintendo. They have taken the ultimate sedentary activity of video games and have attempted to include physical activity.
Whether they have done this to make a difference or simply to make money is the main question.
As a personal trainer who has used some expensive balance related equipment in college the technology of the Wii fit is very impressive.
The balance pad was very responsive and accurate and some of the exercises were surprisingly difficult.
The Wii fit program seems to be based on solid a scientific idea. The idea is to improve balance, neuromuscular control and core strength before progressing to more difficult exercises but it fails to mention that.
The Wii fit is certainly cool, but it seems to have a serious identity crisis. The games are directed at children but much of the fit program is more for adults.
99% of people won't go from out of shape to fit on the Wii, but it is a good fun supplement to any exercise program and active lifestyle.
5. BIA Body Fat Scales
A major criticism of the Nintendo Wii fit is the use of BMI (Body Mass Index) for assessing someone's body. Since BMI is simply height squared divided by weight squared it tells nothing about a person's body composition (fat vs. muscle).
There are many different methods of body fat measurement but BIA is by far the quickest, easiest, most convenient and least evasive method.
BIA stands for Bioelectrical Impedance Analysis and sounds more fancy than it really is. A low level electrical impulse is passed through the circuit of your legs. The more fat you have the more the signal will be impeded and the scale will figure out the rest for you.
Body fat scales are notorious for giving inaccurate measurements but the measurements are almost 100% reliable.
Monitoring your body composition is a very important aspect of your fitness program. Even if the measurement is not the most accurate, you can use BIA body fat scales to monitor your change in body fat percentage which will tell you over time if your exercise program is achieving the desired effects.
Tanita Ironman Body Composition Monitor
Honorable Mention:

Google Earth

Google earth is not just for finding the house your grew up in.

If you were interested in the Garmin forerunner because you want to know how far your daily jog is but you don't want to shell out the $350 you are in luck.

You can use Google earth to find out how far your daily jog or bike ride is. It is pretty cool when you plot the exact path of your jog.

Start from your house, turn left at the mall, run along the water until you get to the bridge and straight back home. You can measure your exact distance as well as have the display follow you as you go.

You can use Google earth for your exercise at home and away from home because it is Google earth. You have no excuse to not go for a run, walk or jog next time you are on a business trip or vacation.

The best part about Google earth is it is absolutely free and can be used for anywhere. You can download it here.

You May Also Like -

blog comments powered by