Top 5 Outrageous Celebrity Transformations
---
Subscribe to AsktheTrainer Fitness Lists

5. Carrot Top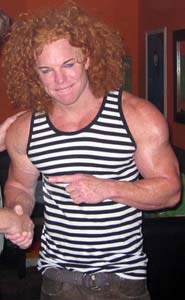 Stand-up Comedian, Vegetable , Weight Lifter
Carrot fell in love with weight training during his high school wrestling days but didn't get serious until his career took off and got on auto pilot.
Carrot Top attributes his change of lifestyle from being an on-the-road stand-up comedian to finding a permanent home for his show on the Las Vegas Strip to his body transformation.
While Carrot Top has packed on loads of lean muscle mass in the gym and consuming a proper diet at home, he credits his fast paced prop comedy routine with giving him his cardio training which likely allows him to stay lean.
4. Linda Hamilton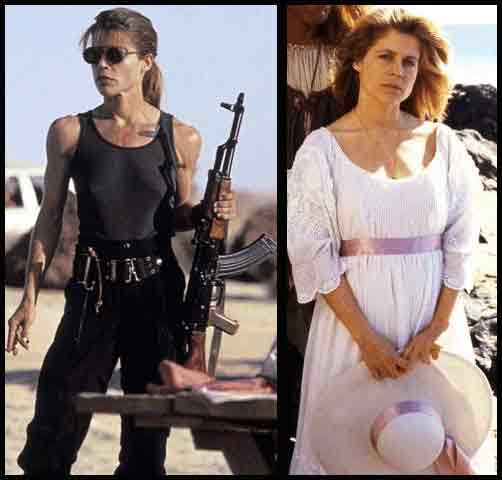 Movie: Terminator 2

One of the most eye popping moments in the 1991 mega blockbuster Terminator 2 was when Linda Hamilton's character Sarah Connor first appeared in her cell doing pull-ups.

The actress who starred on the TV show Beauty & the Beast and played the helpless waitress in the first Terminator had transformed into a fit and strong female super solider.

It took Hamilton three months of Summer 1990 to reach her peak. She trained for three hours, six days a week, in her garage home gym.

Her exercises included aerobics, running, swimming, long sessions of stair climbing, lifting free weights and more.

Interview Discussing T2 & More with Linda Hamilton
3. Charlize Theron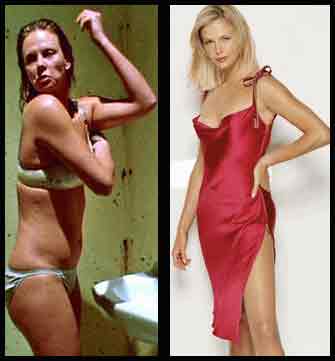 Movie: Monster
While most actors and actresses transform themselves in a positive way, the gorgeous Charlize Theron went in the opposite direction.
You can't look like a supermodel while playing a phychotic serial prostitute.
In order to play Aileen Wuornos, Theron not only had to spend long sessions with the make-up artist but she had to gain over 30 pounds of pure ugliness.
See Charlize in the Monster Trailer
2. Gerard Butler

Movie: 300
Playing a Spartan warrior is never easy but when your're wearing nothing but a loin cloth in a graphic novel there is no hiding anything from the camera.
Gerard Butler had to train his way to look the part of Leonidas and it wasn't easy. In addition to countless hours of weapons training for the movie's action scenes Butler enlisted the help of a top level mountain climbing trainer as well as a Venezuelan bodybuilder.
When it was all said and done it took 16 weeks of training hours every day before Butler obtained the "strong" look he desired and appeared on screen looking the part of the Spartan King Leonidas.
Listen to Gerard Discuss his workouts for the 300 Movie
1. Christian Bale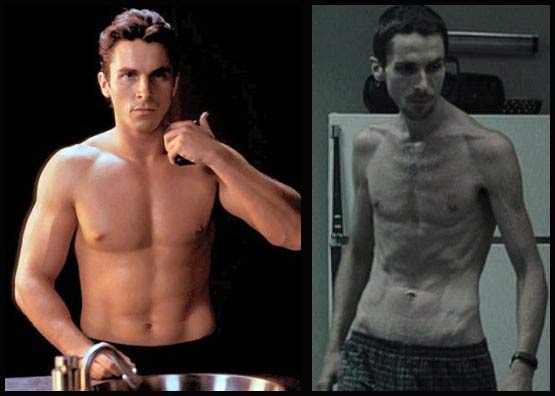 Movie: The Machinist
Likely the most remarkable celebrity transformation of all time belongs to the current Batman himself Christian Bale.
For his role as the chronic insomniac Trevor Reznik the Machinist, former muscular "American Psycho" and future "Batman" star Bale had to transform himself into a very un-superhero-like starvation victim.
Bale credits his remarkable 70 pounds of weight loss to a 4 month starvation diet in which he consumed mostly coffee & cigarettes and some apple or tuna which gave him around 275 calories a day.
According to the DVD commentary, he lost 62 pounds, reducing his body mass to 120 pounds.
The "American Psycho Bale even wanted to go down to 99 pounds! Luckily for him, the the filmmakers would not let him due to health concerns. What makes Bale's transformation so remarkable is he gained 40 pounds of muscle back through weight training and proper nutrition for his next roll of Bruce Wayne in Batman Begins a few short months later.
See Christian Bale in the Machinist Trailer
You May Also Like -
blog comments powered by
Watch Another Take on the Best Celebrity Transformations